Thirteen Hursley ringers travelled to the Charminster area of Dorset for an excellent day's walking and ringing arranged by Richard and Pam Thompson.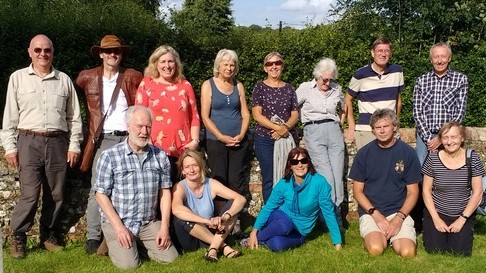 Left to right back row: Richard Thompson, Barry Saunders, Chris Saunders, Sue Craddock, Chris McCallion, Janice Higgins, Derek Stewart, Ian McCallion. Left to right front row: Drew Craddock, Kate Shaw, Jenifer Smith, David Salter, Pam Thompson.
The band rang at three towers: Fordington (13 cwt, 8), Charminster (14cwt, 10) and Bradford Peverell (5cwt, 8). The standard of ringing was good at each tower. This was a leisurely outing which started with coffee at Tom Brown's in Fordington and finishing with dinner at the superb Saxon Arms at Stratton. The weather was ideal for the walking sections - neither too hot or cold but dry throughout.
Well done to everyone for their good ringing and a special thanks to Pam and Richard.